Ferrous Processing and Trading is one of the nation's premier scrap metal recyclers. This job is one that is a lot more valuable, and a lot more important, than you might think. Scrap metal recycling has a lot of benefits which aren't always easy to see.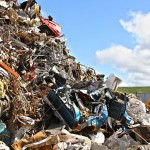 Protecting our Nation's Resources
Choosing to recycle scrap metal with companies like Ferrous Processing & Trading helps to preserve precious natural resources. Rather than wasting more energy and time mining for virgin ore, manufacturers can use recycled metals to create new products. This helps keep our natural land resources untouched – preserving the delicate balance of the ecosystem and storing these resources away for future generations. By using recycled metal, companies also reduce emissions, water use, and air pollution.
It Makes Financial Sense
There are over 500 scrap metal recycling companies across the United States. Many of these accept scrap metal for cash. For example, Ferrous Processing & Trading offers cash for ferrous and non-ferrous scrap metal from private individuals and business clients.
The value of scrap metals depend on the type of metal and the current market value. However, you can have your scrap metal evaluated to receive an estimate. Ferrous Processing & Trading is committed to providing the best value for their transactions, giving sellers peace of mind. Precious metals such as gold and silver will bring in more money, and others like copper are also averaging a higher value. However, common metals like aluminum and steel can be found in many household items including appliances or automobiles which can add up quickly.
Why is it important to stay on top of your scrap metal recycling? Well, there are a few different reasons. Firstly, it can help provide a sustainable source of metal ore. It also minimizes waste and obsolete equipment on your land and prevents ground contamination. If you sell your scrap when the value is high it can be a great source of additional income.
Consider:
Setting up recycling bins in your home or office
Starting a simple soda can collection
Cleaning out your garage and recycling old items rather than just dumping them
Get everyone involved – educate your friends and family!
Scrap metal recycling may seem like a daunting task, but is can actually be easier thank you think. You just need to get organized!
About Ferrous Processing & Trading
Ferrous Processing & Trading is one of North America's premier processors, sellers, and recyclers of scrap metals of all kinds. They are supported by the unique skills and experience of the management, commercial, and operations teams. Their ownership assures both financial strength and a deep commitment to the industry and their customers. FPT's reputation is built on the core values of integrity, expertise, responsiveness, and creativity in the scrap metal recycling industry.
Ferrous Processing & Trading is a key supplier to the metals industry of North America. From every stage of the metal recycling process from the assembly line to the used parts pile then through the scrap processing yard and into the furnace, FPT has the right answers for handling and marketing metal.
Ferrous Processing & Trading
1333 Brewery Park Blvd
Ste 400
Detroit, MI 48207
313-567-9710