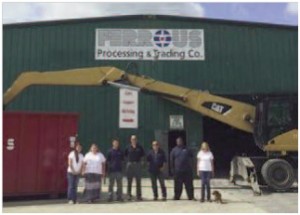 With a welcome by the local Chamber of Commerce and an article in a local newspaper, Ferrous Processing and Trading (FPT) received a warm reception from Shelbyville, Tennessee for its newest outpost. The metals recycling giant, based in Detroit, Michigan, recently launched a six-acre yard and 15,000 square foot metal shop in the strategically located town.
Located between Nashville and Chattanooga, the Shelbyville facility is the company's first yard and processing facility in Tennessee. FPT's Franklin, Tennessee location hosts an office for overseeing the company's Southeastern US operations.
"The facility allows us to do a better job servicing clients in the region," details FPT Regional Director Bill Sulak. "Nissan is a significant customer for us. The automaker produces approximately 600,000 vehicles from its 5 million square foot manufacturing and assembly plant in Smyrna, TN and operates a power train assembly plant in Decherd, TN. The closer proximity of our yard allows FPT to nurture and continue growing this important relationship."
The entire operation – from initial concept through opening – was achieved with a remarkable turnaround. "Exceptional teamwork brought the Shelbyville facility to fruition with only a three month timeline," says Sulak. "We first put the idea on the drawing board in mid-January and by mid-April we were opening our doors to the public. I'm grateful to the entire FPT team that helped us move so quickly."
The yard employs seven full time and one part-time employees. "We intend to be an active part of this vibrant community – environmentally, socially and fiscally – and thank them for the hospitality they have extended to us. As with our other locations, we will also make it a priority to work closely with local law enforcement," explains Sulak.
With its proximity to several automotive suppliers in the southern region, the new yard will bring enhanced operational and logistical efficiencies. Sulak also predicts more direct control over products and quality, as well as the ability to localize critical accounting functions.
"Because we're physically closer and the on-site staff is only tasked with coordinating the efforts of the Tennessee facility, overall response time will become even more efficient," he explains. "Most importantly, as the manufacturing base continues to grow in this region, our own footprint is now equipped to grow with it."