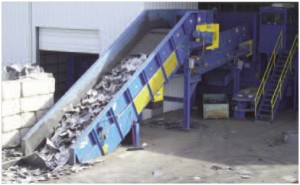 The ability to react quickly is a nurtured skill at the Soave family of companies. At both SLC Recycling in Warren, Michigan and Ferrous Processing and Trading's (FPT) Tennessee-based operations, the Engineering and Maintenance Department moved with precision and haste to enhance the companies' performance.
Investing $1 million in updated technology, SLC Recycling recently replaced its 40-year old non-ferrous baler with a state-of-the-art Harris HRB Centurion baler. The new baler densifies aluminum into large bundles for cost effective shipping and more efficient melting than loose aluminum.
"Removal of the old baler and installation of the new machine took only two weeks with the combined efforts of FPT's Engineering and Maintenance Departments and the Ohio Baler Company," Vice president Tony Levin pointed out. "As project manager, Don Lyons with FPT Engineering and Maintenance was instrumental in facilitating the tear out and installation."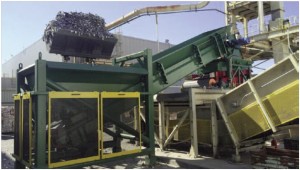 Equipped with newest generation of operating controls and diagnostic systems, the new high speed machine has quadrupled production capacity from 5,000 lbs to 20,000 lbs per hour and reduces downtime due to mechanical failures. The baler is used primarily for baling aluminum clips, but is also capable of processing other non-ferrous metals.
In a separate instance across the country, a large FPT customer was confronted with a serious separation issue earlier this year – the cross contamination of steel and aluminum scrap. During the baling process, ferrous scrap was being introduced into the nonferrous (non-magnetic) metal stream. Or, in layman's terms, steel scrap from the production line was being mixed with the non-magnetic aluminum scrap generated on the same line.
This accumulated scrap is typically sold to a third party and produces a significant revenue stream for the parts stamper. A less than pure product results in a large price reduction for the scrap and possibly a complete halt to the sales. FPT's Executive Vice president Tony Benacquisto estimates that losing the sale of 800,000 pounds of scrap each month could cost the client $200,000 every 30 days. With great determination, the FPT Maintenance and Engineering group headed up by Dennis Garlough once again dove in and developed a solution.
"The first indication we had of the problem was a 1:30 a.m. email on a Saturday leading into a plant shutdown week," observed Bill Sulak, FPT Regional Director. "Quick thinking, solid teamwork and lightning fast implementation saved the day. Our engineering team met at 8 a.m. the next day to devise a plan. Within 30 days, Dennis and his team designed, tested, fabricated and installed a custom-designed separation system from scratch," notes Sulak. "Just remarkable."
Benacquisto further explains, "The integrated separation system of conveyers and magnets eliminates the contamination problem. Importantly, our team action and immediate fix of the problem exceeded customer expectations." With the automotive industry transitioning to more and more aluminum usage, contamination with steel scrap will become a more frequent issue – and the FPT system is the first of its kind. "We do not believe that there is another scrap company with the same capabilities," details Sulak. "We are ready, willing and able to develop customized solutions for other automakers."